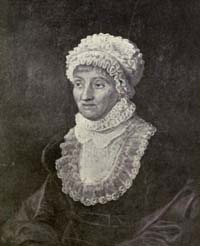 Born: Mar 16, 1750 in Hanover, Germany
Died: Jan 9, 1848 (at age 97) in Hanover, Germany
Nationality: German
Field: Astronomy
Famous For: Discovery of comets
Awards: Prussian Gold Medal for Science (1846), Gold Medal of the Royal Astronomical Society (1828)
Caroline Herschel was a German born astronomer who later lived in England. She discovered the 35P/Herschel-Rigollet, a periodic comet, along with several other comets. Caroline was the first woman in modern Europe to be given full recognition as an astronomer. She was involved with the astronomy field until the end of her life.
Early Life
Caroline was born in Hannover, Germany in March, 1750. When Caroline was ten, she became sick with typhus which stunted her growth as a child. As an adult she was only 4'3". She moved to England to live with her brother, Friedrich William Wilhelm, in 1772. Her brother was a music teacher in Bath. She soon became the principal singer in his concerts and achieved a good reputation as an accomplished singer.
Astronomy
Her brother was interested in astronomy and it soon became a very time-consuming hobby for him. Caroline soon became just as interested as her brother in studying the solar system. She also began studying astronomical theory and algebra, which was required for measuring astronomical distances.
In March of 1781, William noticed what he thought was a comet. Following careful observations on his own and with other astronomers, it turned out that William had actually found a new planet which was later named Uranus. Caroline was also given credit for this planet's discovery. The next year, he became an astronomer for King George III, and was given a royal pension. During this time, he gave up his musical career to practice astronomy full-time with Caroline.
Royal Recognition
Caroline studied the sky with a twenty-seven inch Newtonian telescope. She discovered numerous astronomical objects from 1783 to 1887, which included the M110 (NGC 205), in the Andromeda Galaxy. From 1786 to 1797, Caroline identified eight comets, the first in August of 1786. This included one that is named for her, the 35P/Herschel-Rigollet comet. For her efforts, she received a salary of fifty pounds from the government which made her England's first woman to have a compensated government appointment.
William married a prosperous widow in 1788. Not long after he became less interested in astronomy. Caroline continued to dedicate much of her time to astronomical research. She updated and reorganized the catalog of stars which was published by John Flamsteed in the eighteenth century. In 1798, the Royal Society published her revised directory.
End of Her Life
Her brother died in 1822. Almost immediately she moved back to Hanover. There she continued to work on cataloging all of the discoveries that she and William had made. She also collaborated with William's son on a catalog of nebulae. Many renowned scientists visited her, such as Carl Friedrich Gauss, a German astronomer. She lived in Hannover until her death in 1848.
Legacy
In 1835, she became a member of the Royal Astronomical Society and three years later she became a member of the Royal Irish Academy. Prussia's King awarded Caroline the Gold Medal for Science in 1846. In 1888, an asteroid was named after her middle name, the 281 Lucretia. Later a crater on the moon, the C. Herschel, was named after her.