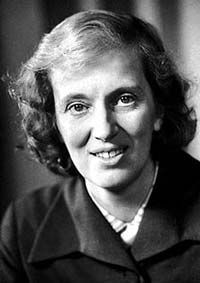 Born: May 12, 1910 in Cairo, Egypt
Died: July 29, 1994 (at age 84) in Ilmington, Warwickshire
Nationality: British
Field: Biochemistry
Famous For: Development of Protein crystallography, Determining the structure of Insulin
Awards: Lomonosov Gold Medal (1982), Copley Medal (1976), Nobel Prize in Chemistry (1964)
Dorothy Hodgkin was a British chemist, who is known as the founder of the science of protein crystallography. She was awarded the Nobel Prize in chemistry for her work with Vitamin B12 in the year 1964. During that time, the Nobel Prize committee also cited her contribution in the determination and confirmation of the structure of penicillin, in addition to vitamin B12.
Early Years
Dorothy was born in Cairo, Egypt, in 1910, a time when the British controlled Egypt. Her father, John Crowfoot, was a British archaeologist and scholar. Since Dorothy's father worked for the Ministry of Education her childhood was characterized by world travel.
During WWI, Dorothy and her sisters were sent to England for safety reason. When Dorothy was a child, she often travelled with her parents to places like the Middle East and throughout Africa. She received her schooling in England at the Sir John Leman School in Beccles.
Interest in Science
Hodgkin's interest in chemistry began early in her youth life. She was not only encouraged by her parents but also by other scientific acquaintances. She was greatly influenced by a book written by William Henry Brag, a British Physicist and pioneer in the field of X-ray crystallography. The book explains the use of X-rays to study crystals.
Her parents also introduced Dorothy to soil chemist A.F. Joseph and his colleagues. They toured Dorothy in their laboratory and also showed how to pan for gold. They also gave her some equipment that allowed Hodgkin's to set up a lab in her home. After she got graduated from the Sir John Leman School in Beccles, Dorothy joined Somerville College of Women at Oxford University and was financially supported by her aunt in paying her tuition fees.
College and Work Life
Though, Hodgkin considered specializing in archaeology, she finally settled on chemistry and crystallography. She received her Bachelor's degree from Oxford University in 1932. She then assisted John Desmond Bernal, a famous crystallographer, at Cambridge University. In 1934, Hodgkin and Bernal together determined the structure of pepsin, a protein crystal. In the same year, Dorothy returned to Oxford to complete her doctorate program as well as to teach.
Working in Oxford was a great challenge for her. Even though she was a faculty memeber, she was not allowed to attend research meetings because she was a woman. She even had to climb a rickety spiral staircase everyday to get to a window that allowed sufficient light for her microscope to function properly.
Dorothy was the first to discover the structure of a complex inorganic element, cholesterol iodide, through X-ray crystallography. She was awarded her doctorate degree by Oxford University in 1937 and continued to teach there for the rest of her life.
During World War II, Dorothy along with other scientists, worked to determine the structure of penicillin, and they succeeded in 1945. In 1948, she started her work in determining the structure of vitamin B12. Her goal was to help scientists better understand how the vitamin is used in the body to prevent pernicious anemia. These two works earned her a Nobel Prize in 1964. Dorothy Hodgkin suffered a stroke and died on July 29th, 1994, in England.