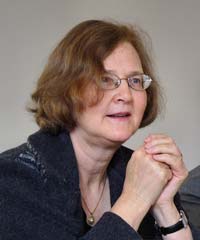 Born: Nov 26, 1948 in Hobart, Tasmania, Australia
Nationality: Australian, American
Field: Molecular biology
Famous For: Study of telomere and telomerase
Awards: Nobel Prize in Physiology or Medicine (2009), L'Oréal-UNESCO Award for Women in Science (2008), Louisa Gross Horwitz Prize, and many others
Elizabeth Blackburn is an Australian-born American biologist. She is world famous for her study of telomeres and the co-discovery of telomerase, an enzyme that controls telomeres.
Early and Academic Life
Elizabeth Blackburn was born in 1948 in Hobart, the capital city of Tasmania. Both of her parents were physicians and they encouraged her interest in the science of living things from an early age. Elizabeth attended University High School in Melbourne. In 1971 she graduated with a MS from the University of Melbourne. She completed her doctorate program in molecular biology at Cambridge University in 1975. After attaining her doctorate degree, she started her post-doctoral studies in 1975 at Yale University. She was a scholar in molecular and cellular biology at Yale from 1975 to 1977, and from 1977 to 1978 at the University of California, San Francisco.
After completing her post-doctoral studies, Elizabeth joined as a professor at the University of California at Berkley in the department of molecular biology in 1978. After working for 12 years in various departments at the University of California, Berkley, Elizabeth was transferred to the University of California in San Francisco to work in the Department of Immunology and Microbiology.
Work on Telomeres
One of the best contributions by Blackburn to genetics and biology was her discovery of telomere's molecular nature. Telomeres are found at the end of eukaryotic chromosomes and act as a protective cap to preserve the genetic information. It is known to play an important role in the life of a cell. She found that unusually short telomeres in individual are a sign of illness. According to Elizabeth, measuring the length of telomeres could give patients and doctors a chance to identify diseases, intervene early and sometimes even prevent such illnesses. Her work on telomeres awarded her the Nobel Prize in 2009.
In 1984, Elizabeth isolated telomerase along with her student Carol. W. Greider. Telomerase is an enzyme that is not only responsible in the synthesizing of new telomeres in the DNA, but also responsible for finding the length of the telomeres. She also investigated the effect of stress on telomeres and telomerase. It was her recent discovery that mental and emotional stress may accelerate the aging process right from inside the cells.
Achievements
Elizabeth has been honored a number of times. In 1998 she was elected as the President of the American Society in the area of Cell Biology. In 1991, she was elected as a fellow of the American Academy of Arts and Sciences. In 1992 she became a fellow of the Royal Society of London. In 1993 she became a fellow of the American Academy of Microbiology, and in 2000 a fellow of the American Association for the Advancement of science. She was also honored with the Albert Lascar Award in 2006. In 2007 her name was included in TIME Magazine's list of the 100 most influential people around the world.