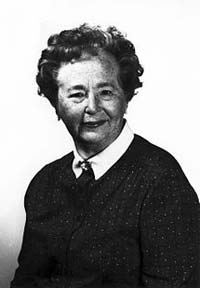 Born: Jan 23, 1918 in New York City
Died: Feb 21, 1999 (at age 81) in North Carolina
Nationality: American
Field: Biochemistry, pharmacology
Famous For: Development of varous drugs, research that led to development of the AIDS drug AZT
Awards: Lemelson-MIT Lifetime Achievement Award (1997), National Inventors Hall of Fame (1991), National Medal of Science (1991), Nobel Prize in Medicine (1988), Garvan-Olin Medal (1968),
Gertrude Elion was born in New York in 1918. Since her youth she showed great love for science related subjects. Her love of science was encouraged and heightened in her public school where she was allowed to make frequent trips to the Bronx Zoo. When she was just 15 years old Elion was so advanced in her studies that she was voted ready to go to college. Despite the fact that her father had suffered financially in the stock market crash of 1929, her grades were high enough to secure her free admission at Hunter College in New York City.
Gertrude had some problems choosing one subject to major in since there was no scientific subject that she did not love. However, she finally settled on chemistry; this is because her grandfather had died of cancer when she was 15. His passing inspired her since she hoped that one day she would discover a cure. While in college she enjoyed and excelled in her studies and she graduated summa cum laude in 1937. However, after the depression, it became difficult for even the most talented woman to be accepted into a graduate program in science.
Her Career
Elion took some time to teach biochemistry and she also assisted in the chemistry lab. In 1939 she was able to enter into a chemistry graduate program at New York University. She was the only female in her class but according to her observations "no one seemed to mind." By the time Gertrude earned her master's degree two years later the world war had begun and it changed everything. Due to the war, all the reservations that existed for employment of women in laboratories reduced greatly.
She began to work in quality control in a food company until in 1914. In 1914 Elion was offered a great research assignment where she became the assistant to George Hitchings at Burroughs Wellcome's pharmaceutical research laboratories. Her first assignment was to study purines which are compound bases. She described that each series of study she partook in was like a mystery since they had very little biochemical information to work on. In the late 1950's advances in biosynthesis pointed them to the applications of their research.
Inventions and Discoveries
While working with Hitchings, Elion started to discover lifesaving drugs that were based on their study of purines. In 1959, she was awarded a patent for purinethol which was the first major medicine to fight leukemia. She won a patent for Imuran which helps suppress the body's immune reaction to foreign tissue which helped with transplanted organs. She later made more drugs such as Zyloprim which fights gout and Zorivax for herpes infections. She was named on 45 patents. She moved up the ranks and became the head of the experimental therapy department, a position she held from 1967 to 1983. She then moved on to become a consultant and Scientist Emeritus.
Gertrude worked in other places such as the National Cancer Institute, the World Health Organization and the Leukemia Society of America. She also mentored and taught students at Duke University Medical School.
Awards
In 1988, Gertrude won the Nobel Prize for Medicine and she shared the honor with Hitchings. She won the National Medal of Science in 1991 and the Lemlson-MIT lifetime achievement award in 1998. She also received an honorary doctoral degree from Harvard University. She was also inducted into the Women in Technology International Hall of Fame. Elion died February 21st, 1991 at the age of 81.