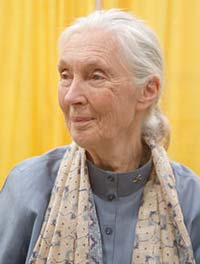 Born: Apr 3, 1934 in London, United Kingdom
Nationality: British
Famous For: Welfare of animals, conservation, study of chimpanzees
Awards: DBE (2004)
Jane Goodall was born in London, England in 1934. She is famous for her study of chimpanzees in Tanzania. Goodall discovered primate behaviors that have continued to define the course of this science field. She is the world's foremost authority on these animals as she closely observed their behavior for about a quarter of a century. Goodall is a highly respected figure in the scientific community and is a strong advocate of ecological preservation.
Early Life and Education
During her early life, she was given a life-like chimpanzee toy by her mother, which she named Jubilee. This started Jane's early love for wild animals. The toy still sits in London on her dresser. Jane was an intelligent young girl and she proved this by becoming one of only nine people to have ever received a PhD in Ethology without having obtained a bachelor's degree.
She went to a secretariat school and had a series of jobs at Oxford University and a film studio. At the film studio she worked on documentaries until she was invited by a friend to travel to Kenya by boat. She sailed to Kenya on the passenger liner Kenya Castle, and met Louis Leakey, a famous anthropologists. It was here in Kenya where Leakey was impressed with her enthusiasm and knowledge of the African wildlife.
Goodall worked with Leakey in Olduvai Gorge. He saw in her the right qualities to carry out an in-depth study on chimpanzees in Gombe National-Park in Tanzania.
Achievements and Contributions
Her research at the Gombe National Park is well known for uprooting two long standing beliefs; one being that humans were the only animals that could construct and utilize tools, and the other that chimps were passive-vegetarians.
Leakey and Jane began a crucial study of the chimpanzees in 1960 by the Lake Tanganyika in the Gombe Stream Reserve. The wild chimpanzees slowly revealed interesting habits. Such habits included eating meat. She also noted that the wild animals made certain tools from the bark of a tree that they used for extraction of termites. This was among the most important discoveries of her study because during that time, many people assumed that only human beings could make tools.
Awards
Jane Goodall has received several awards for her humanitarian and environmental work and charities. She was made a Dame of the British Empire in 2004 and a United Nations Messenger of Peace by Kofi Annan, then UN Secretary General. She married two times in her life and had one son.